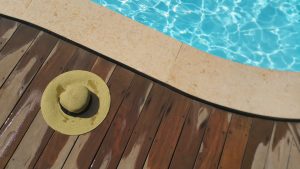 When it is finally time to close down your pool for the winter, it can be easy to learn how to accomplish this yourself. All you need is a pool cover, winter closing kit, and cleaning tools. If you are still unsure on closing your vinyl pools in Chesterfield, MO, you can always call Little Giant Pool & Spa for excellent services.
You will first want to remove any equipment in and around the pool. This can get in the way of the cover and also end up becoming damaged during harsher winter conditions. Once everything is out of the water that needs to be, test your pool to make sure the chemicals are appropriately balanced.
Once you are sure the pool water is balanced, begin adding in all of the winterization chemicals from the winter closing kit. This will ensure your water is properly treated to withstand the cold, snowy months. You will also want to shock your pool the night before you close it up to ensure no algae grow during the months you are not using the pool.
If you are in need of assistance closing up your pool for the winter, Little Giant Pool & Spa offers pool opening and closing services to residents all over Missouri. Give us a call today at (636) 271-2200 to schedule closing services for your in-ground pool.