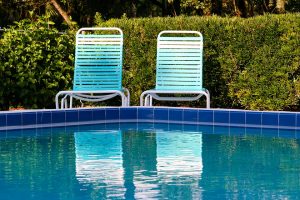 With summer fast approaching, it's almost time to open up your pool to enjoy during the warmer weather. A pool's liner is an important aspect, as it helps protect the shell from water damage. It's important to make sure that your liner is in good condition before opening up your pool, as cracks and tears can signify a variety of different issues. Whether you're in need of a brand new liner or are simply looking to update the style of your pool, below are our top 3 liner designs for 2017.
Stone designs
A stone or pebble design on your vinyl liner can produce a gorgeous effect on your water, making your pool look like the bottom of a fish bowl. These designs also allow for a pop of color to peek through the water, allowing for fun décor options in your backyard paradise.
Ornate designs
Another popular trend this year is more ornate designs within the pool liner. These can include waves, swirls, or even more complicated designs such as fleur de lis. An ornate liner can add an extra sense of refinement to your outdoor look and can also have a shimmery touch added in, creating a stunning effect on the water.
Tile designs
The ever-popular and classic look of tiles is never a wrong choice when it comes to pool liners. Liner designs can range from basic blue tiles to more decorative looking tiles in a variety of colors and patterns.
Little Giant Pool & Spa is the leading company for pools in Jefferson, Missouri and the surrounding area. If you're in need of a vinyl liner replacement, give us a call today at (636) 271-2200.