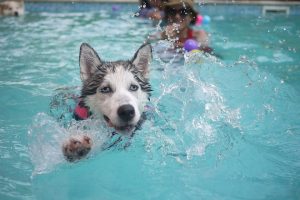 Dogs are a family's best friend, and for those with fiberglass pools in Missouri, you may want your furry companion to join you in all of the pool-time festivities. Though some dogs may thoroughly enjoy hopping right into the water with you, taking the proper safety precautions for a pet in the pool is crucial. Below are some valuable safety tips you should follow before, during, and after your dog joins you in the pool.
Before: Make sure your dog knows how to swim before bringing them into the water. Though some say certain breeds are better swimmers, the real key is your pet's personality. If your dog is timid, they may not be as willing to go into the water as an outgoing, explore everything type of pup. It will also help to purchase a life vest for your dog, even if they appear to be excellent swimmers and learning how to perform pet CPR can save your dog's life in an emergency.
During: Once your dog is comfortably swimming around the water with you and your children, it is crucial to never take your eyes off of them. If they get tired, swallow some water, or find themselves in any other hazardous situations, you need to be available to act. You also need to ensure that your dog has an easy way out of the pool and has been trained to know exactly where the exit is. Never let your pet drink the pool water and make sure they have plenty of regular water and shade to relax in on those hot summer days.
After: Once you are all done in the pool, and your dog had a fun day of play, you will want to rinse them with clean water as soon as possible. This will remove the chlorine and other chemicals from their fur, which can be irritating and harmful to your pet.