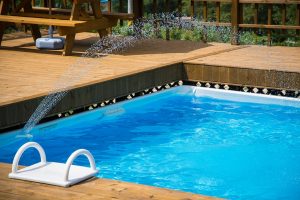 With summer on its way, you may be looking into installing a brand new pool in your backyard. At Little Giant Pool & Spa, we construct stunning one-piece fiberglass pools in Missouri that are sure to bring summertime fun to the whole family. Fiberglass pools are becoming increasingly popular and in many cases are more convenient to install than a poured concrete pool.
One-piece fiberglass pools are pre-molded and can be installed in your yard in one piece! This installation process can be extremely beneficial to homeowners short of time. Rather than waiting for the concrete to be poured and dry, your pool can be installed in less the time! A one-piece fiberglass pool can be installed in 6 steps: excavation, setting and leveling, plumbing and filtration, backfilling, coping, and patio/fencing. Since the fiberglass pool shell is one solid piece, we can simply place the shell into the area of your yard where the pool will be and fill in the spaces between the pool and the ground.
Though fiberglass pools generally tend to be more expensive, the reasoning behind the extra cost is the material used in the shell. Fiber glass is nonporous, which means that these pools are much more resistant to algae growth, which can save you long-term in pool chemicals.
If you're interested in installing one of our one-piece fiberglass pools in Missouri, contact Little Giant Pool & Spa today at (636) 271-2200.