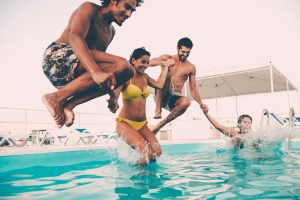 For Missouri residents that have in-ground pools, the winter can wreak havoc on your outdoor oasis. This is why it is so important to ensure that your pool is ready for the cold season. Here are some tips on getting your pool winter ready.
Clean out the Pool
The very first thing that you need to do is clean out your pool of any leaves, dirt, debris, and insects. Use your pool vacuum or just fish debris out with a net. Be sure to clean out the pump basket and the skimmer as well as clean the tile line with a quality tile cleaner. This will save you the headache from ridding your pool of scum before it has a chance to set in over the winter.
Balance the Water Chemistry
This will protect your pool from scale buildup and corrosion. You will need to utilize a water testing kit to make sure the water is adjusted to the recommended pH levels, including alkalinity, calcium for hardness, and chlorination.
Add a winterization chemical kit to the pool to prepare the pool for the winter months. Little Giant Pool & Spa specializes in pools in Jefferson, Missouri and can help you retrieve a winterization pool kit ideal for your sized pool.